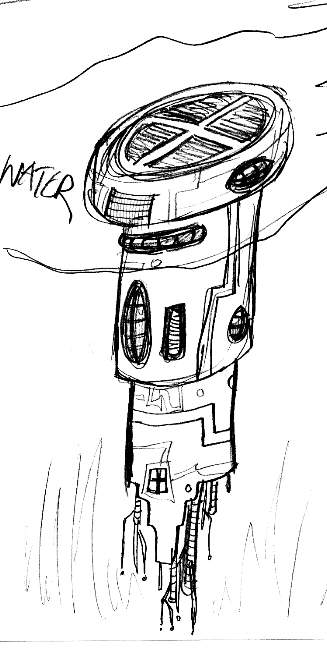 Well, would ya lookit that.

See, instead of the tower going up, it goes DOWN, into the water. And of course it has a bunch of fields with food growin' on 'em up top where the sun is. I see it in a nice light blue color. On this manmade tower of the damned, it would be completely inter-connected with computer networks and such, allowing for deathmatching day and night. Also assuming we've gotten a nice perpetual motion engine(something that like this, probably won't ever exist) powering the whole thing, energy isn't really a problem. To feed the plants and keep the humans onboard hydrated, we've got a nice little desalinization plant down in the bottom. Anything we can't make ourselves(which is a lot, really) we'd have to just trade with the landdwellers for. There'd basically be no real economic model going on there, sort of just like a take what you need, give what you don't thing goin' there. I haven't really thought it through, but still it'd be nice if it could work.

1st. Deck - This is just the internal watering system for the plants.

2nd Deck - Storage and Stuff.

3rd Deck through 7th deck - Living quarters and kitchens and basically anything you can use open space for.
8th Deck - Desalinazation plant

9th Deck - Servers and observation



10th Deck - Super Secret Dungeon where we breed magic flying monkeys and killer tuna fish. We also work on making ways to make super-soakers more powerful.

Anything below that - Important-looking but really worthless techno crap. Maybe we could use them to send out radio signals to dolphins and mer-people.


I'll bet you can't draw that straight either!